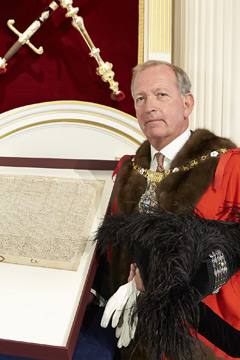 The 686th Lord Mayor of London has been elected; he is Alderman Alan Yarrow CBE, chairman of the Chartered Institute for Securities and Investment. For the Lord Mayor's Appeal he has chosen the charities Scope and Mencap.
Highlights
This year the City of London Corporation's 1297 copy of Magna Carta will feature in the Show, kick-starting global celebrations of the ancient charter's 800th anniversary in 2015 Magna Carta is widely regarded as a cornerstone of English law and human rights. For the first time, the charter required a monarch – King John - to accept that his will was not arbitrary and that people could only be ruled through the law of the land;
7,000 people from all over the world in the procession, including 180 horses, 140 vehicles, 70 floats, a vintage steamroller, a Spitfire, a Viking ship, Masai dancers, Taiko drummers, Shaolin kung-fu dancers, a grand piano pulled by bicycles, Napoleon and a tank;
New City of London Lord Mayor Alan Yarrow travelling in the golden State Coach.
All relevant press releases put out by the City of London Press Office will appear here immediately, along with any others that seem useful. This year's main announcement:
City's next Lord Mayor elected
29 September 2014 Alderman Alan Yarrow was today elected as the 687th Lord Mayor of the City of London to serve as the global ambassador for UK-based financial and business services from Friday 7 November, the day before his Lord Mayor's Show.
Every year the City of London awards three grants of £15,000 to local community groups to enable them to take part in the Lord Mayor's Show. In 2014 grants have gone to the Tower Project Poetry in Wood and Bermondsey Voices.
Photographers and broadcasters are invited to the Lord Mayor's Show on Saturday 8 November. You are welcome to mingle with the crowds but accreditation is required for access to the Show's media stands. Please email your bids to emma.hutchings@cityoflondon.gov.uk by noon on Wednesday 5 November. For more details please see our accreditation page.
There are several photographic and interview opportunities in and around the Lord Mayor's Show, including the dawn coach rehearsal. Details will be published here as soon as times and dates are set.
Every year a selection of images are published to help people covering the buildup to the Show. They typically includes images from last year's procession, rehearsals and other preparations for this year's Show and of course the new Lord Mayor.
For more information
For further information about these or any other subject, or to arrange an interview with Dominic Reid, please contact John Park at the City of London Press Office on 020 7332 1754 or by email at John.Park@cityoflondon.gov.uk.