Roads closed for the Lord Mayor's Show
In recent years we have been able to reduce slightly the area affected by the Lord Mayor's Show, but it still covers a large part of the City of London.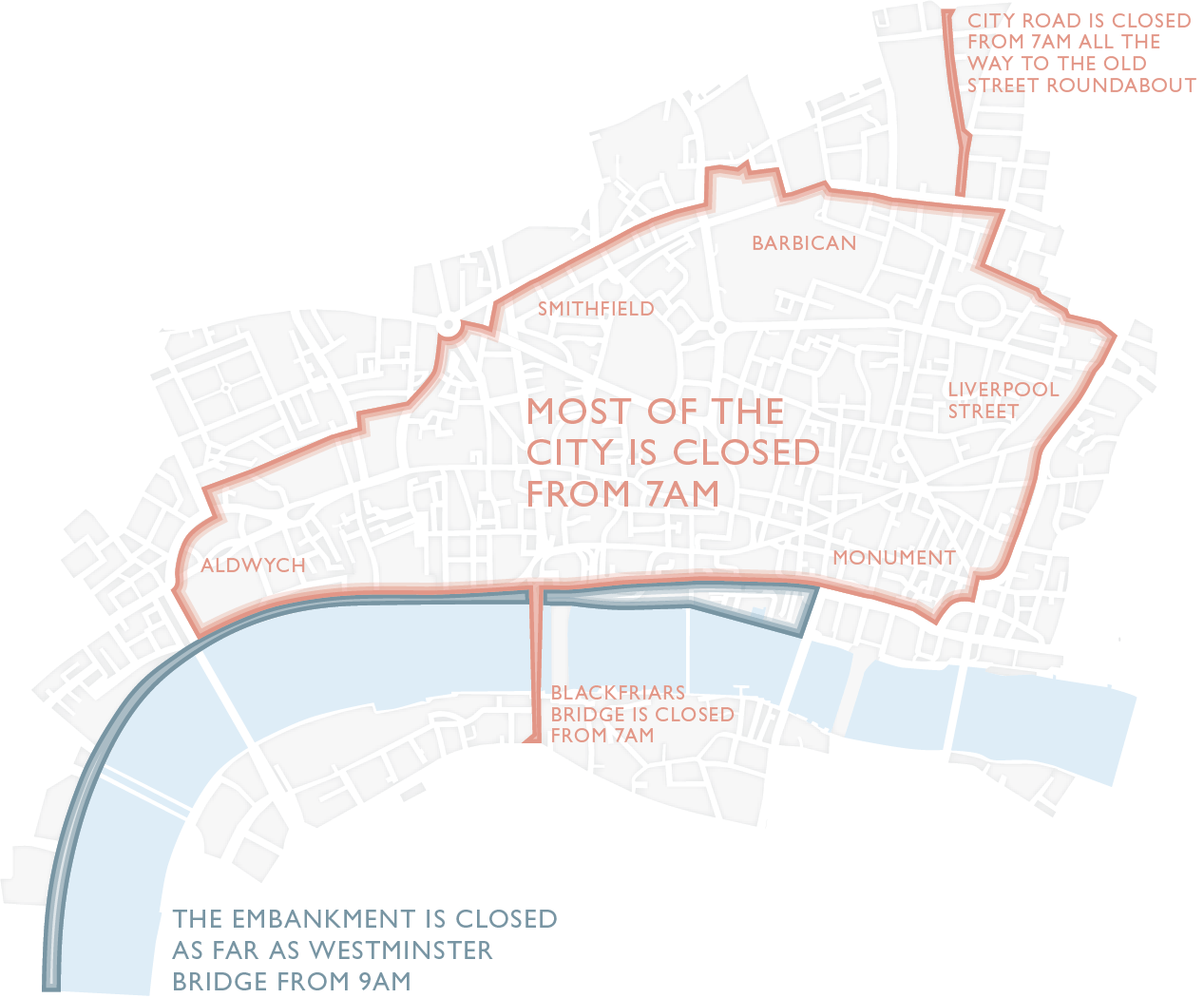 Roads
Most roads in the City of London will be completely closed on the day of the Lord Mayor's Show, admitting no traffic whatsoever. The closed area extends from Kingsway in the East to Bishopsgate in the west, and from the river up to Holborn and Chapterhouse Street. All those roads are open; everything between them is closed.
The closed area is slightly smaller than it has been in the past but for through traffic the effect is much the same: rather than going through the City you will be sent round via Old Street or across the river. Most roads will reopen between 3 and 4pm.
There may also be traffic restrictions on roads in the region extending north to Old Street and Clerkenwell Road, and you can expect heavier than usual traffic in the surrounding area as cars are rerouted.
For more detail, please click above for our summary PDF, or you can download the City's official boundary map. There may be detail changes in the build-up to the Show, so if you have particular concerns please watch this page or follow the Show for updates.
Bridges
London Bridge is open as normal. Southwark Bridge is open but leads only to Upper Thames St and Bishopsgate. Blackfriars bridge is closed all day, along with Victoria Embankment.
Buses
Buses will be diverted around the City, or turn back at the edge of the closed area. Please see our buses page for a summary.
Parking suspended
All visitors' parking bays in the City of London, and a very few residents' bays, are suspended from Friday afternoon.
Special cases
There are no special cases. The secure area is very secure indeed and its perimeter is heavily policed. Early in the day a resident of the Barbican might be able to drive out along Beech Street or Aldersgate, but not after about 9am, and there is no chance that they would be allowed to drive back in.