Accessibility
The Lord Mayor's Show is naturally accessible and enjoyable by everyone, and you will see many disabled people both taking part and joining the crowds to watch. The only problems you might encounter are to do with closed roads and busy pavements.
Q Pass application form for coaches wishing to park on Queen Victoria Street and possibly watch from vehicles.
D Pass application form for blue badge holders wishing to park on Old Bailey and watch from Ludgate Hill
Access Map
The City of London access team have published a map of the Show showing all the features that might be of special interest to disabled visitors.
Watching the Show
For wheelchair users and anyone who is concerned about standing up in a crowd for the hour and a half that it takes the procession to pass, the grandstands are by far the best place to watch the Show. As well as the banked seating there are places reserved for wheelchairs, each with space for an accompanying carer if required. You can buy grandstand tickets online or by calling Gerard Pryce in the ticket office on 03332 406003. Gerard can also be reached on lordmayorshow at tickets.com. Don't delay: the wheelchair space is limited and the grandstands sell out long before the day of the Show.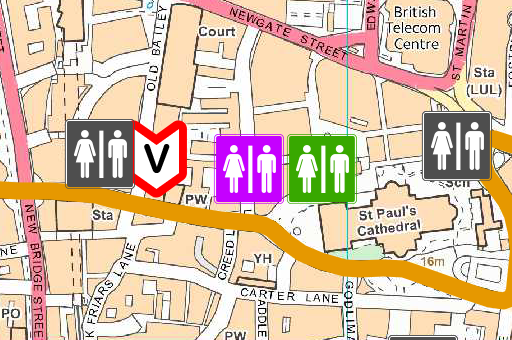 There is also a free dedicated viewing area for disabled people and their families at the junction of Old Bailey and Ludgate Hill, managed by the City of London Access Team. It is not under cover so visitors are advised to bring umbrellas and waterproof clothing. No seating is provided but folding chairs can be brought. It is marked with a (V) on the access map.
Crowds
The busiest parts of the route are around St Paul's and Mansion House. If you're at all concerned about the crowds, or might be a bit unsteady on your feet, please avoid those areas. In quieter places like Fleet Street, Victoria Embankment and Queen Victoria Street the crowd should be much more manageable and you should be able to use folding chairs. There is also less of a crush during the return leg of the procession, so for wheelchair users the best option may be to head for Victoria Embankment at about 1pm.
If you decide to go for the first leg of the procession - which is usually a bit more lively - and you want to be at the front of the crowd, try to get there by about 10. Front row positions are bagged quite early on.
Driving and Parking
Due to the strict security (and safety) regime, only vehicles with approved passes are allowed within the Show area. Most visitors have to travel to the Show by tube but special arrangements can be made for those unable to use public transport. For disabled people driving to the Show the best option is to park in Old Bailey and then watch the show from nearby. This will require a special vehicle access pass that you can obtain by filling in the form above or contacting larry.costa@cityoflondon.gov.uk at the City of London. Applications should be made by Friday 26 October at the latest. Please note that there is no space for parking on Queen Victoria Street as it is reserved for coaches.
Public Toilets
Accessible WC's are provided at various locations around the parade route including Blackfriars Bridge, Old Bailey, New Change and on Queen Victoria Street (junction with Cannon Street). All of them are marked on our one page map, on the access map and in the interactive maps of our smartphone apps.
Not all these are Part M standard accessible WC's: for full details please check with Larry Costa (020 7332 3037). There are also a number of wheelchair accessible WC's within train stations around the City. Many of these are opened using a RADAR key.
There are accessible toilets near the free dedicated viewing area for disabled people and their families at Old Bailey. There is also a fully equipped Changing Places facility near the Barbican cinema. For more information please contact access@cityoflondon.gov.uk or 020 7332 1995.
Accessibility in the City
The City of London Access team can be contacted on 020 7332 1995 or by email at access@cityoflondon.gov.uk