In November 1939, The City Press noted, 'there was no Lord Mayor's Show in the sense of a pageant.' The formalities of the change of Mayoralty were observed, and a procession of sorts took place, but it was 'shorn of much of its picturesque charm', lacking 'the semi-State Coach, with its fine horses … the State Trumpeters, and, last but not least … the City Marshal, whose cocked hat and feathers were sadly missed.'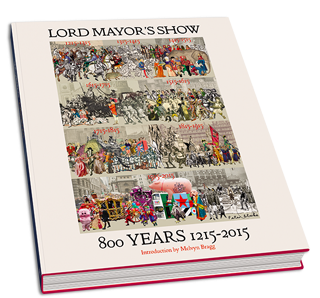 The Lord Mayor and the other dignitaries processed in private cars. While the 'phoney war' continued, many questioned this asceticism. 'Patriotism demands that we all acquiesce in having nothing worth looking at by day and no light to see anything with at night', complained The Times' correspondent, who envisaged a puritanical wartime Show in which the Lord Mayor 'would be driven to a selected air-raid shelter where he would be received by the Controller of Turtle Soup and his staff.'
By Lord Mayor's Day in 1941, such sarcasm appeared misplaced. Diners at the Mansion House luncheon (which had replaced the traditional Guildhall banquet) were assured that 'in the event of it all becoming necessary to vacate the Hall, Guests will be conducted to shelter accommodation.' Though the previous Lord Mayor referred to 'the awful carnage and destruction of cities like Warsaw, Rotterdam and Belgrade', the bomb damage in the City itself was evident enough. The Times noted that that year's procession was headed by the Civil Defence Services, who, traversing the City, passed 'many a desolate reminder of their own struggle in the worst hours of London's air raids.'
By then the Spartan pattern of wartime parades was established: 'motor cars took the place of horses, and even cars were used sparingly'; 'a brisk and efficient parade' of British and Dominion troops, accompanied by 'Allied and Associated Forces' from the Free French and occupied Belgium, Czechoslovakia, the Netherlands, Norway and Poland, replaced the peacetime pageant. Spectators were sparse, deterred by 'curtailed train and bus services and the more general injunction to travel only when necessary.' The absence of flowers at the Mansion House luncheon was remarked upon in 1942.
In 1943, after years of stoicism, The Times' correspondent lost patience, decrying the 'grim, mechanised procession – perhaps the shortest ever seen on a ninth of November. Military dispatch riders in crash helmets rode their motor-bicycles in the van of a sombre string of motor-cars…. Even more grim was the escort of six self-propelled anti-aircraft guns manned by their steel-helmeted crews.' It was reported that after exchanging the insignia of office at Guildhall, the new and old Lord Mayors left to an amplified recording of Bow Bells, the real bells being 'broken and down'. This ersatz performance was repeated in 1944, the City Press noting balefully that the bells of St Mary-le-Bow 'will not ring again until the Church is rebuilt after the war.'
The underlying optimism regarding the war's outcome was warranted, but even in 1945, six months after VE Day, the coach remained unused for want of horses to pull it. Only in 1946 did the Lord Mayor and Sheriffs' Committee decide to 'revive what is popularly known as the Lord Mayor's Show', at a cost of £4,000. The peacetime pageant, featuring worthy themes such as agriculture in 1947 and transport in 1949, returned gradually, but the City of London Corporation could not ignore postwar austerity, replacing the wartime Mansion House luncheon by 'a Dinner (not a Banquet)' at Guildhall from 1946. Only the Lord Mayor Elect's diffident request, in that year, that 'there should be something such as a Lobster Patty in place of Soup at the dinner' promised a more opulent future.